Lower Beer Cost Through Preventive Maintenance
Meet Our Popular Beverage Dispensing Company
Are you wanting to work with the most trustworthy beverage dispensing company? We offer design and installation as well as maintenance and repair for all types of beverages.  Whether you need a Beer Tower, Short draw, Wine or ANYTHING on tap, or any kind of under-bar equipment for your business or home entertainment room, we have you covered.  You are on the right page at the right time! Currently covering Savannah, GA to Palm Bay, Fl.  We have been in business since 1998, and offer a complete solution to your beverage dispensing needs,  providing the best service to the people of North Central Florida and Georgia. We are proud to have a kegerator maintenance team that knows how to deal with certain situations that need extreme patience and expertise. 
We have loved serving our clients over the years, and look forward to helping you design and maintain a system that will maximize customer satisfaction and business profitability. The outstanding results we have provided to our clients have only been possible because of the team we have built, who work continuously to make sure that our kegerator maintenance company's reputation stands tall for years to come. 
Our mission and vision always push us to provide top-notch quality services to our clients while maintaining the company's core values: teamwork, excellent work ethics, and integrity. We strive to follow these core values while focusing on the needs and requirements of our customers, with comprehensive design and installation services paired with maintenance services that will always make sure your beverage dispensing equipment is performing in its best condition. So whether you are looking for a prompt service, a reliable service, or both from a world-class company that professionally caters to your needs, you can always choose our  kombucha on tap team!
An Excellent Beverage Dispensing Service You Will Love
We understand that without amazing people like you opting for our beverage dispensing services, we wouldn't be where we are today! Your coordination with our team and your trust in us when you require on-tap services for your Beer, Wine, Milk, Coffee, or Kombucha has always kept us on our toes to provide the most satisfying and friendly but professional services.   Our cost-effective solutions are the result of a combination of our experience and your trust in our team. 
Your valuable drink dispensing equipment, its maintenance, and its repair services are entirely our responsibility. To contact us, give our team a call today and drop your questions to our experts. Our quality draft systems will really put your bar or restaurant over the top. When you call us, we will be more than happy to assist you with your needs and provide the most exceptional services at the most competitive prices. So, our kombucha on tap or our milk on tap will be a smash hit with your clientele. 
At our short draw company, we offer economical price ranges for all types of services we offer. With the advancement of technology, many restaurants, and fast-food chains are adapting to drink dispensing equipment for things like milk on tap to improve their service and provide customer satisfaction. And the installation process or the maintenance and repair of these machines can be laborious when acquired from the wrong team! And that's why you need to contact our highly experienced and skillful technicians to handle the job for you.
We are a maintenance company that also does installs.  We strive to keep your beer cost down by maintaining your system.
Check out some of our work here!
Are you planning a new restaurant or bar that will serve beer or wine?  Or maybe you utilize condiments in the preparation of your food?  Let us help you design a dispensing system that will work best for your business!
Do You Need A Maintenance Service For Your Business?
Why is a maintenance service  necessary for your business? Maintenance procedures for tap systems is vital to ensuring that your product is stored and delivered efficiently and with quality.  For a perfect pint, you need to ensure that your beer is kept at the correct temperatures, and that pressure problems do not cause over-carbonated beer so that nothing is too hot or cold which can cause excess foam.  While your supplier might take care of cleaning the beer lines, they do nothing with your actual system. 
As we all know, a brewer takes several months to brew and finish a keg of beer. But, unfortunately, the quality of this carefully brewed beer can be affected in seconds when the beer is kept in sub optimal temperatures, or if the glycol system is not running correctly.  Properly maintained draft beer systems can last indefinitely.  Trunk lines last between 10 and 15 years IF properly maintained.    The enemies of draft beer include yeast, mold, beer stone, and bacteria, which affect how your beer tastes and smells. So, if you're searching for a company to help with either long draw or short draw systems, with technicians fully trained to provide the most fulfilling service to the customers – Look no further!  We can maintain your beverage dispensing system, and keep your product being served as it was meant to be by the brewer.  Call our team today! We can tell you everything there is to know about our quality draft systems!
Incorporate A Commercial Beer Tap System To Liven Up Your Business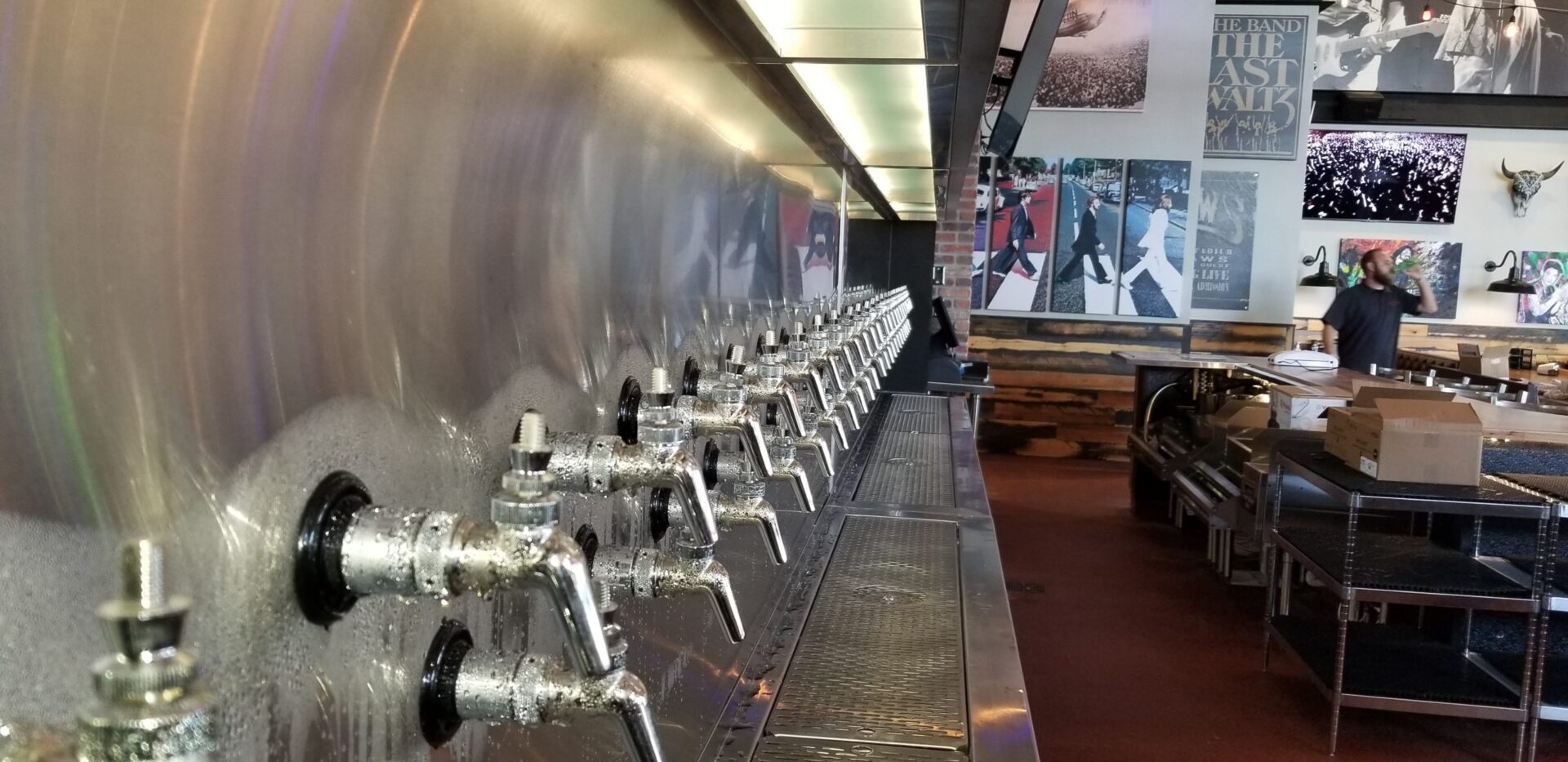 Do you own a restaurant, bar, or any other commercial business establishment? Or are you in a business planning phase where you are thinking about a modern or streamlined method to make your customer happy and fulfilled by your services? Installing a commercial beer tap system in your restaurant or bar can make all the difference in the way your customers or clients see your business! 
A commercial beer tap system is one of the best ways to incorporate liveliness into your business where your happy patrons can stand to serve themselves with however many beers they want to have that day! The tap system is one of the best, innovative, and most intelligent self-serving methods that is both an enjoyable and satisfying job for your customers. And that's where our draft cleaning services come into the picture. We are the beer tap system that will set your business apart in a unique way and will help you boost your beverage sales while also reducing your waste production. 
With the post-pandemic era beginning, many businesses find it hard to keep good employees and sustain their business for long. A self-serve beverage tap system will always aid your business in running smoothly. You can also run daily operations with less staff who can help you provide the best quality service in the most cost-effective environment. And we know that as an experienced and responsible business owner, you know how crucial it is for your business to choose trustworthy beer tap systems for restaurants. So, here we are, to help your business function and grow with the most potential.
We Increase Your Efficiency With Our Wine Tap System
Your daily business is simplified with our services. We help your customers grow by making your services exceed your customers' expectations and providing them the most delightful service at the rates that they would be willing to pay. Here at Kanes Draft Service, you get the most reliable and versatile wine tap system service on the market. We are known to cater to businesses that hold a unique place for serving their customers in the best way possible and fulfilling the business needs while tending to the customers' needs- be it a hotel, pizzerias, brewers, restaurant, or any other place that serves drinks to customers. So, why should you choose us for your wine tap system service? There are three reasons we would like to present before you:
Increases efficiency –

As a traditional bar, you will be dealing with many bartenders pacing here and there to serve the customers according to their demands. While this could be happening, it might be hard for the bartenders to cater to every client. With self-pour, they can tend to their needs in real-time. This means increased efficiency with more customer oriented service.
Reduced waste –

Alcohol waste is not only reduced by the use of a tap system, but it also reduces the need for glass bottles and thereby reducing the overall wastage for a business. This is required for every business in today's day and age.
Increased sales – Crowded bars, long lines, and busy bartenders are a recipe for decreased sales. And what is the solution that will help against this? Of course, beer tap systems for restaurants is your go-to method to increase your wine sales.
Choose Kanes Draft Service For Your Commercial Draft Beer System
Our draft cleaning services offer the best commercial draft beer system that is customized to fit the needs and requirements of every customer. Be it a bar or a brewery, if you are a beer enthusiast or a commercial business owner wanting to improve your customer service, then you should opt for our commercial draft beer system. Our end-to-end service will always ensure that you will get the best dispensing equipment installed, the best maintenance and repair service, which will help your business thrive; we will help you go a step further in your industry. We comprehend the importance of a beverage company to provide the best beverages to the consumers. The flavor, the aroma, the taste, and the quality of the beer you dispense matter for your customers.
Our wine draft systems always make it 100 percent sure to provide top-notch quality service for our customers. We will promise to cater to your needs and requirements with utmost care and concern. Call to ask about our wine draft systems now and get one today for your commercial business!